As Big Data is the new word of mouth today, Hadoop is gradually gaining popularity in all the domains of this world. Many of you are thinking about the future of Hadoop. Therefore, today you will study experts' predictions of Hadoop.
The businesses in today's world are more focused on customers. Customer care is about personalized service while working with various modes of consumer interaction. Hadoop solves complicated challenges faced by businesses. Overcoming the drawbacks of traditional data approaches Hadoop is gradually becoming common big data technology.
Therefore, before exploring the future of Hadoop, know what exactly Hadoop is.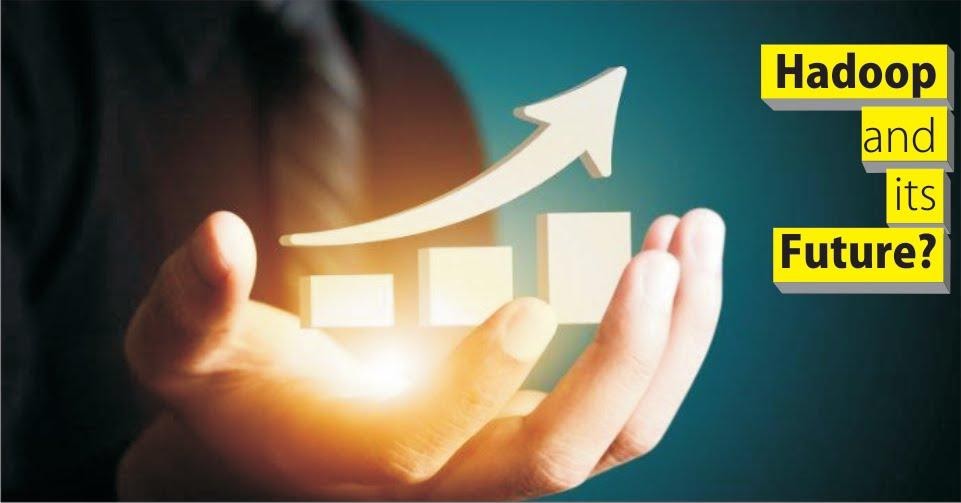 Major Industries Adopting Hadoop
The study revealed that Hadoop has good market possibilities in many industry verticals. With the arrival of the digital age, we are dealing with the data explosion. As we proceed ahead in time new technologies are evolving. This is again impacting the pool of data. Under such conditions, Hadoop has evolved as an unprecedented solution for holding and processing massive amounts of data. The image below shows how the Hadoop market distributes across different industry domains.

As we can understand from the above image no industry is left behind from being a part of the Hadoop market. Completely from banking, telecom, e-commerce, health care to government, media, transportation all have Hadoop applications running on them. As the world is understanding the benefit of data analytics to their business, the adoption of Hadoop is growing exponentially.
The reason behind the growing Hadoop market is that Hadoop offers cheap and fast data analytics. Also, Hadoop has advanced to be better and better since its beginning. Although many big data technologies are coming like Spark and Flink. But the Hadoop as remained in place as a provider of robust big data storage. Spark and Flink do not have their storage they rely on Hadoop for that. It is mandated to learn Hadoop as it is one of the first big data technology. It forms the basis of all the inventions in big data.
Hadoop Applications in Different Sectors
Let us now explore how Hadoop is helping businesses to solve their problems. Many end-users are utilizing Hadoop for their day to day business needs. We discuss some of them below:-
a. Banking Sector
A study in top 10 investment and retail banks showed that the challenges faced by then are:-
• Card fraud detection
• Tick analytics
• Archival of audits trail
• Enterprise credit risk reporting
• Social analytics for trading
Retail traders, big banks, and other fund management companies use Hadoop for pre-trade decision-support analytics, sentiment measurement, predictive analytics, etc.
b. Communication, Media and Entertainment
The challenges faced by media, communication and entertainment industry are:-
• The collection, analyzing consumer data for insights
• Finding patterns in real-time media usage
• Leveraging social media and mobile content
Companies in this industry evaluate customer behavioral data to generate a detailed customer profile. Companies utilize Hadoop to create content for different target audiences, recommend content on-demand, and so on.
c. Healthcare Providers
The challenges faced by the healthcare sector are:-
• Excluding patients from decision making.
• Use of data from different sensors.
The University of Florida uses public health data and Google maps. And they visualize data and used it in tracking the spread of chronic disease.
d. Education
The big data challenge in the field of education is to integrate data from various sources. They have to collect data from different platforms and different vendors.
The education sector uses big data analytics quite expressively. A New Zealand university has more than 26000 students. They have deployed learning and management system. With the help of big data technology, they trace how many students log into the system. How much time do they spend on each page and what is the progress of the student over time?
The other application of big data in the education sector is tracking the efficiency of teachers. Teachers' performance can be fine-tuned and measured against subject matter, number of students, student aspirations, and so on.
Hadoop Job Predictions
IBM predicts that the demand for data scientists will soar 28% by 2025.
Finance, insurance, and IT industry demand 59% of all data scientists' jobs. The insurance and finance industry alone requires 19% of the data scientist job. Professional service and IT industry follow them with 18% and 17% data scientist job demand. The below graph shows the distribution of data scientist jobs by industry.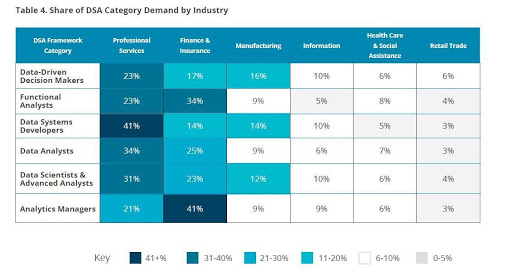 MapReduce, Apache Hadoop, Apache Hive, Apache Pig, and Machine Learning constitute the most lucrative skills. Professionals with MapReduce skill make $115,907 annually on average making it the most in-demand skill. IT professionals with Pig, Hive, and Hadoop skills are competing for jobs paying over $100K per year.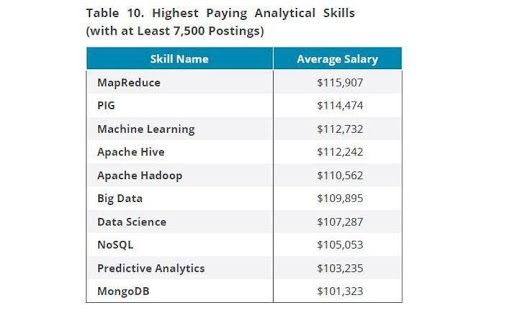 Data Science, Big Data, and Machine Learning skills are a challenge to recruit for. Also, they create potential disruption to ongoing product development and go-to-market strategies if the positions are not filled. There are serious conditions for companies investing in these areas. They are a high cost to hire, a strong need for the training program, and high risk to future productivity.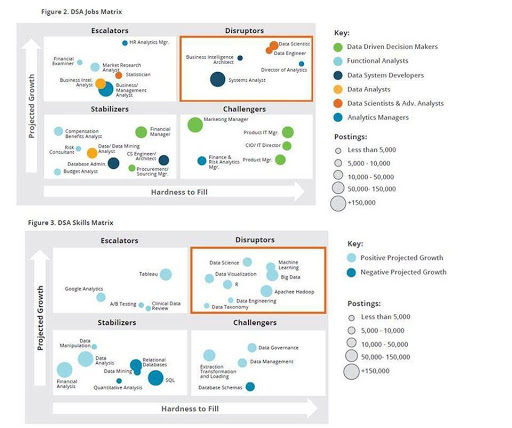 Image Source – IBM
So, this is the right time to start learning Hadoop and improve your skills to get a high paying job in Hadoop and Big Data.
Salary of Hadoop Techies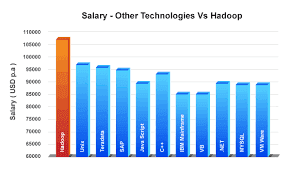 One cannot speak about big data without them mention of Hadoop. Hadoop is a very eminent big data technology. Firms are progressively using Hadoop for solving their business problems. With this, the demand for Hadoop professionals has increased. But there are not enough Hadoop experts to fill in the demand. There is a gap between the requirement of Hadoop skill and the actual skilled people present. Hence the pay package for the Hadoop professional is more than other skills in the industry. The below graph proves exactly this.
In line with Dice analysis, jobs that need Hadoop skills pay-off well. But to land with a good paycheck, one needs the right blend of certification and experience. The regular annual salary of entry-level big data Hadoop developers in the USA is $112687. The mainstream of entry-level Hadoop developer annual salary range between $85000 to $140000 across the USA. In India, the entry-level Hadoop developer is making an average of $112,687.
In 2021, there is going to be a lot of investment in the big data industry. This will lead to an increase in job opportunities in Hadoop. This means people who know Hadoop would expect better salaries and more job options. Looking from the business point of view also the utilization of Hadoop will rise. This is because more and more firms will get into this technology to improve their business to gain insights from data and to increase their revenues. Thus big data analysis using Hadoop will play an important role in the upcoming years.
Summary
As per the prediction goes big data trend is going to stretch across the globe. Picking up the right skills with open source tools like Hadoop, Spark, Kafka, Flink one can get into promising big data jobs. The perfect way to launch your career in big data is undergoing through Hadoop developer or administrator training. Based on what job role you want for yourself, you can pick up the training for you. You may never expect learning Hadoop could be a big career move for you.
We hope you got all the needed information for the future of Hadoop. This is the perfect time to pick a course and start learning Big Data and Hadoop. 
Keep Learning!!