Big Data in Travel and Tourism
"40% Off on Your Next Flight Booking!!"
As soon as this notification popped on my smartphone in between my work timetable, I found myself exciting about planning another vacation after many days. This notification was sufficient to attract my travel bug soul. And guess what, I ended up going on another vacation.
All thanks to Big Data.
Yes, you read that right. shocked? Why am I recognizing Big Data for this? So encouraging your interest, this is the true power of Big Data and analytics.
You might already know about the miracles that Big Data have done in several industries across the world. And the travel industry has been one of them as well. The travel industry is the one that hugely depends on the data it collects and now has become more capable since the arrival of Big Data and analytics into it. It has changed the travel industry and is now a part of their daily operations.
Big Data is taking the travel industry in the correct direction. It takes care of everything that a traveler expects from the traveling company he is dealing with. From customized offers to giving suggestions about the places you must visit, it is the perfect mate that a traveler needs.
Big Data is here to make your traveling experience tension-free and if a traveler is free from all the tensions, he's able to travel more. What else does a travel bug need?
A huge amount of money. Lol.
6 Ways Big Data can benefit Travel Industry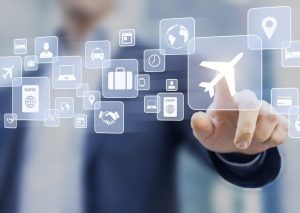 1. Revenue Management
Travelling and tourism industry experiences the challenge of selling the exact product, to the exact customer, at the exact moment. Keeping in mind the exact price, via the exact channel. All this requires internal as well as external data. Internal data like previous customer expectation, occupancy ratio, room revenue, and current bookings. External data, like information about local events, weather, flights, and school holidays.
Both the internal and external data helps to get more precise data. It also helps in forecasting future demand and get ahead in advance. As a result of this, hotels are then better capable to manage prices and room rates, increasing them at times of high demand, to maximize the profit that is generated.
It should be noticed that additional data is effective only when the revenue management system helps to enhance the price-demand estimates. This system helps to control a specified business mix and pricing strategy. It also helps to improve the optimization process. At this point, big data usage gives an advantage over the competitors and helps the marketer to take a position for themselves. Revenue management helps in integrating the analytics and determine which competitive properties are related to the customer's that are eager to pay. Also, the opponent rate information can be known and thus this also helps a business to plan the next move.
2. Reputation Management
Running a hotel is not a child's play. Cleaning, Room service, bar, restaurant, most importantly the customer service management demand for a lot of money, time, and courtesy. Here is how Taj treats its customers.
Hotels like Taj facilitate its service to the customers very satisfactory. These services are of great use as they support the hotel's build and manage their status. Having the log of its customer data and information assists to drive to its core service, i.e hospitality, for which it is known for. If the website and services are shown would not have been attractive, a person would never have decided to stay there. Separately from that, the order-taking is also one of the kinds of capability.
Big data has assisted the performance to get smooth, starting from billing and payment to the use of the mode of payment everything has become simple. The improved service is the services for which one is ready to spend so much money. For instance – Taj is a hotel and is known for its hospitality. The respectful, mannerly, and courteous staff is the reason what separates it from the other hotels. Employees are given specific training and a strong process is followed by them to get themselves registered in the hotel management courses.
In the age of the Internet, customers can leave reviews on a wide range of different platforms, including social media sites, search engines, and dedicated review websites, sharing their opinions and experiences. The customer's trend is to trust reviews more than the website.
It is supposed that businesses turn the truth into their marketing. But other customers usually don't have much reason to remain in a positive review. If they think a hotel is good, it possibly is. Moreover, customers are gradually checking these reviews and comparing various hotels before they make a booking.
So, when all this data get merged with the feedback that is attained internally, it can be used to spot the most important strengths and weaknesses. With data, it can be known that whether customers are satisfied or disappointed. Once this information has been gathered, hotels can use it to inform their training efforts, to make enhancements, and ensure future reviews are positive.
3. Strategic Marketing
By merging big data with a unified marketing management approach, marketing companies can make a considerable impact on these vital areas. Big data helps in providing facts and figures. This, when converted into statistics, helps to find understandings in not just who your customers are, but where they are, what they want, how they want to be communicated and when.
In the travel industry, it could be difficult to get the exact marketing done because potential customers are different in who they are, where they come from, and what they are looking for. But, big data assists travel companies to implement a more calculated approach in their marketing efforts, accurately targeting the right people.
More precisely, it can help businesses to identify the tendencies that occur among the customers, where the resemblances are, and what the best marketing opportunities are. It can also assist businesses to understand where those people are and when marketing is most related to them. This can allow marketing messages to be sent, based on time, location, and other data. This allows targeted promotional content to be offered.
4. Customer Experience
Customer experience is a factor that decides whether the customer will be reliable, need-based customers, or deviating customers. A trusty customer is the one who makes up a minority of the customer base but generates a large share of sales. The main target is to make the customer reliable.
Hotels and other businesses in the travel and tourism industry have a huge range of connections with their customers and each of these communications can deliver valuable data, which can be used to increase the total customer experience. This data can comprise everything from social media conversations and online reviews to service usage data.
Used efficiently, this information can expose which services customers use most, which they do not use at all, and which they are most likely to request or talk about. Through this data, companies can make more informed, fact-driven decisions about the services they currently provide, the services they no longer need to provide, the services they want to introduce, and the new technology they choose to capitalize on.
5. Market Research
The travel and tourism industry uses big data to collect and evaluate information about its main opponents. To benefit a stronger understanding of what other hotels or businesses are delivering customers, data can be obtained from different sources. There is no shortage of places where customers go to disclose their opinions on hotels and travel companies, especially online.
All this data can be used to identify the strengths, weaknesses, and total status of competing companies. This can be valuable, as it helps business leaders to locate potential gaps in the market, or opportunities to offer in ways that rivals are failing to. This can, in turn, lead to greater demand and higher revenue.
Big data can help people in the travel industry in several significant ways, allowing them to make more data-driven decisions. It contains the ability to foresee future demand more exactly, improve pricing strategies, target marketing more accurately, and improve customer experience.
6. Targeted Marketing
The visitor is enormously varied and they can be classified into several categories. It can be according to their spending habits, purchasing power parities, expectations. If we take two limits like family on a holiday to business travelers, the funds, focus and the purpose of staying in a hotel will be different. This is where big data comes into the show. By understanding the requirements, customer experience, and doing market research, the visitor experience can be improved. All this will also assist to create a win-win situation and a reliable customer.
Summary
All this, not just assists in revenue management, reputation management, strategic marketing, customer experience, market research, and targeting marketing but also helps in understanding their marketing content efficiently. It helps to benefit competitive advantage and profits to a business in the long run.
Discussing the long run, 10 years after the terrorist attack in 26/11(Taj attack): We are well prepared, secured and credits can be given to big data for it. It holds all the data, including an individual credential, mode of payment to his experience. At a more instruction level, the national intelligence database, and connection of existing security databases help to stay alarmed in advance. Thus, creating confidence in the people's mind. The country's armed forces now can be expected to respond faster and better to an attack than they did that day in November 10 years ago.
Also, with the arrival of technologies and big data, difficulty planning and crisis management can be done with ease. All these factors help to understand both location and time-specific marketing and we can't thank big data enough for it.