If you are a fresher or assuming to build a career in Big Data then you are at the right place. There might be questions in your mind related to the career in Hadoop that's why you reached here. So, we have answered many questions that will tell you each and everything about the career in Big Data. Explore all the questions and their answers and start learning Big Data for a high paying job. Starting with the first question that must be revolving in your mind.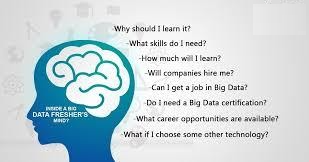 Do Fresher Get a Job in Big Data?
Being a fresher, Do I get a job in Big Data?
The answer to this question is a very big YES.
There is no place in IT where freshers have not required whether it be an old technology like mainframes or the latest technology like Big Data. This is just an illusion that companies do hire experienced professionals only for big data. So in this article, we are going to get answers to many similar questions like – Why Big Data, are their jobs for freshers in big data, how can a fresher get job in big data, skills required to get a job in big data, is big data good for freshers, big data jobs and career opportunities for freshers, etc.
So let us start our journey towards Big Data as a fresher. Let us go step by step answering every question from fresher's perspective:
Why Should I Learn Big Data?
The most important question before you start learning Big Data is – Why should you learn Big Data? So, here is the answer to your question.
According to "The Economist" – World's most valued resource is Big Data now and no longer oil. This itself clarifies why you should learn Big Data. Big Data is not only a technology, but it's a paradigm shift. So if not today, tomorrow you will have to learn this technology to continue in the IT industry.
All companies will have big data in their future as, without big data analytics, companies are deaf and blind.
According to Forbes: The Hadoop market will reach almost $99B by 2022 at the CAGR of around 42%.
So it's a golden opportunity for you to start your career directly in Big Data rather than in any older technologies, which are quickly becoming obsolete. Stop taking yourself to that point where companies will throw you out due to the knowledge of only obsolete technology and not the latest technology. Start your career in big data and then you will see a constant growing career curve.
Do Companies Hire Freshers for Big Data?
So the answer to this question is YES, YES and YES. There are many job openings for freshers in the Big Data Hadoop field and you can understand the same from below openings. Just the main thing to snatch these jobs is by showing Big Data talent in CV and interview. About this, you will realize as you proceed ahead in this article further.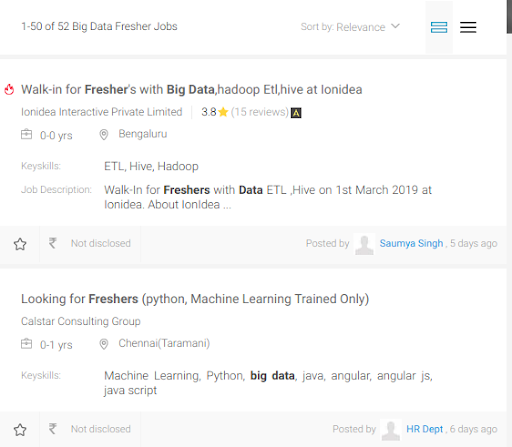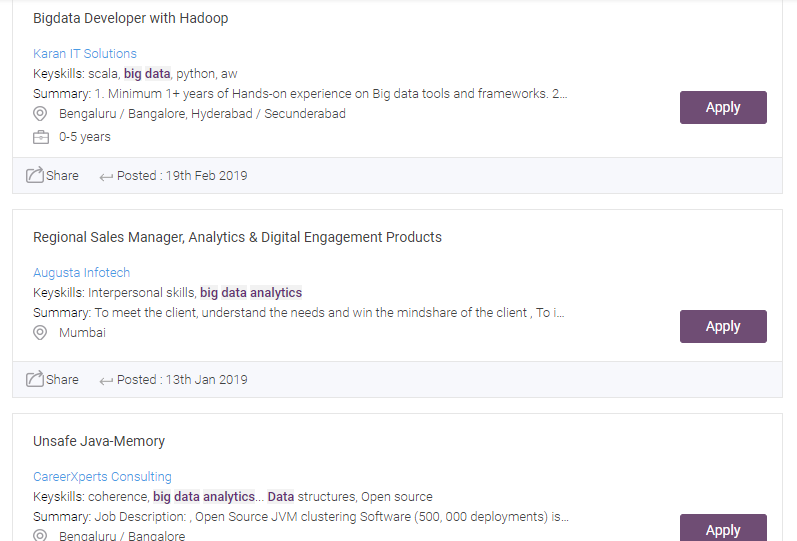 The above images are from the top job searching websites such as Glassdoor, Indeed, and Naukri. This shows how companies are hunting for big data professionals while there are huge layoffs for other technologies professionals due to this paradigm shift.
What is the Salary of a Big Data Fresher?
This is the second most significant question that needs a solution before the big data journey begins.
Big Data salary for fresher generally ranges between 4-9 LPA depending upon various factors just like the company, its position, location, and most significantly your interview performance and therefore the post on which you're hired, etc. This shows that Hadoop fresher jobs pay the foremost as compared to jobs in traditional technologies.
What are the Skills Required for Big Data Fresher Job?
This is one among the foremost important questions which will assure your job and better package in big data. If you've got the specified skillset as demanded by the employers than nobody can stop you from getting employment in Big Data with a really good package.
Prerequisites to Learn Hadoop
Programming knowledge with basic java is taken into account relevant by recruiters. Strong passion and interest in learning big data and powerful presentation skills with basic prior Java knowledge will certainly offer you employment in big data.
So, after having all the prerequisites, what next to urge employment in Big Data?
Next comes the technical knowledge. Different profiles in Big Data demand different skill set but there are few common technologies that you simply should know before you apply for giant data jobs. most vital amongst those are Hadoop, Apache Spark, Pig, Hive, HBase, and Yarn. Make yourself expert in these technologies not only from a theoretical perspective but gain strong hands-on knowledge and projects experience to urge Hadoop interview calls. We are here to assist you in making technology experts showcase your talent in interviews.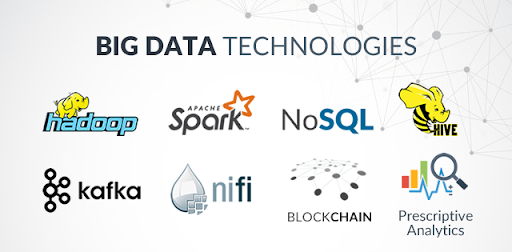 Start Learning Big Data Now
This is the proven fact that if you know of these technologies to a deeper level, you will easily get Big Data job and this has been proved.
What are the Big Data Career Opportunities for Freshers?
As Big Data may be a very huge field, there are multiple roles available for freshers in Big Data. you'll choose any of those from the below-mentioned roles and their responsibilities:
Big Data Developer
This is the foremost demanding role for freshers and there are numerous job opportunities available for this role. Getting a job in this field, you would like to understand the technology from a developer perspective and must have hands-on coding knowledge of the above-mentioned skills.
Big Data Admin
Though it's less in demand as compared to developer profile, still there are many job openings for it also for college kids who aren't curious about coding. you'll start a career as big data admin by learning concepts like the way to install Hadoop, Hadoop configuration and cluster management, etc. This doesn't require coding knowledge.
There are many other profiles available in big data sort of a data scientist, data analyst except for these roles, companies generally prefer prior big data experience.
Job in Big Data vs Job in Other Technologies
Now it is high time to be aware of why you should go ahead with big data instead of other technologies as a fresher. Not only in terms of career growth, but Big Data has more opportunities in every aspect as it is the most flourishing and demanding technology. Every company demands Big Data experts currently and will require them even for the next 2-3 decades due to a continuous increase in the size of data.
Big Data experts get a higher package as compared to other technologies due to more requirements and less availability. There is a huge demand for Big Data Experts and very fewer candidates are available matching the demand of the companies due to which companies are ready to pay higher salaries to the deserving candidate. While the case is exactly the opposite for other technologies like Java, PL/SQL, or any other. There is less demand and a very large number of candidates with good skills are available. So companies get experts at cheaper rates for these technologies.
So what are you waiting for now? Become a Big Data expert and snatch the opportunity in the Big Data field.