Big Data Applications in Several Domains
An Axiom that has stolen the most attention in recent times is Big Data. Big Data is probably on everyone's mind for quite some time now. And the truth is Big Data has spread like wildfire and is on the threshold of conquering every domain of the world. Big Data is not only ruling the IT world but has taken over the other industries as well. Because of the benefits, the Big Data has it furnishes the various industries with, is now becoming a vital part of them.
Big Data, on the flip side, is gradually overpowering the old-fashioned technologies and is a big matter of alarm for those professionals who are still working on it.
Top 9 Big Data Applications
Below is the list of top Big Data applications in the current world:
Big Data in Retail

Big Data in Healthcare

Big Data in Education

Big Data in E-commerce

Big Data in Media and Entertainment

Big Data in Finance

Big Data in Travel Industry

Big Data in Telecom

Big Data in Automobile
Let's discuss the applications of Big Data in detail.
1. Big Data in Retail Industry
The industry is the one that faces the most fierce competition of all is the retail industry. Retailers constantly follow the ways that will give them a competitive upper hand over others. Customers are the real kings of the retail industry in particular.
For retailers to succeed in this competitive world, they need to understand their customers in a better way. If they are attentive towards their customers' needs and how to fulfill those needs in the best possible way, then they know everything.
Complete advanced analysis of their customer's data, retailers are now able to understand them from every angle possible. They collect this data from several sources such as social media, loyalty programs, etc.
Every single minute of details about any customer has now become significant for retailers. They are now closer to their customers than they have ever been. This enables them to provide customers with more personalized services and calculate their demands in advance.
This helps them in building a reliable customer base. A number of the biggest names in the retail world like Walmart, Sears and Holdings, Costco, Walgreens, and many more now have Big Data as an internal part of their organizations.
The estimated sales in November and December are responsible for as much as 30% of retail annual sales as per the study by the National Retail Federation.
Case Study Of Big Data in Retail – Aldo
It is one of the biggest retailers in Canada, used to suffer during this period of the year especially Fridays (generally known as Black Friday). Nevertheless, Big Data has ended Aldo's Black Friday nightmare.
Aldo has developed a service-oriented Big Data architecture that evaluates its customer's data from several sources to ensure a flawless experience to their customers and a stress-free working of their system.
2. Big Data in Healthcare
Big Data and healthcare are the best matches. It complements the healthcare industry better than anything ever will. The amount of data the healthcare industry has to deal with is unthinkable.
In previous days the healthcare practitioners were incapable of harnessing this data. From attaining a cure to cancer to detecting Ebola and much more, Big Data has got it all under its belt, and researchers have seen some life-saving outcomes through it.
Big Data Analytics has given them the license to build more personalized medications. Data analysts are utilizing this data to develop furthermore effective treatments. Recognizing unusual patterns of certain medicines to discover ways for developing more economical solutions is a common practice these days.
Smart gadgets have gradually gained popularity and are the latest trend among people of all age groups. This smart gadget generates massive amounts of real-time data in the form of alerts which helps in saving the lives of the people.
3. Big Data in Education
When you question people about the use of the data that an educational institute gathers, the majority of the people will have the same answer that the institute or the student might need it for future references.
Similarly, you had the same picture of this data, didn't you? But the reality is, this data holds massive importance. Big Data is crucial for shaping the future of the people and has the power to make over the education system for better.
It is not only reviving academic skills but also the non-academic ones such as inter-personnel skills. Big Data is assisting in assessing the performances of both the teachers as well as the students.
Several top universities are using Big Data as a tool to modernize their academic curriculum. Also, universities can even track the dropout rates of the students and are taking the required measures to reduce this rate as much as possible.
Big Data Case Study at Georgia State University
Georgia State University (GSU) is the leading light of the universities with the highest graduation rates in the US. But what helped GSU to be on the top of the list? Of course, Big Data Analytics. They recognized the importance of the huge data of their students.
Then they scrutinized every small detail about their students and through the understandings from this analysis they framed similar patterns amongst the students who drop out in the early stages of graduation. They are now serving students better than anyone else.
4. Big Data in E-commerce
One of the greatest modernization's this generation has seen is that of E-commerce. E-commerce is now part and parcel of our everyday life. On every occasion, we need to buy something, the first thought that triggers in our mind are E-commerce. And not your disbelief, Big Data has been the face of it.
Many biggest E-commerce companies in the world like Amazon, Flipkart, Alibaba, and many more are now roped to Big Data Analytics is itself a proof of the level of reputation Big Data has gained in recent times.
Big Data now is the key to anyone else in these organizations. Amazon, the biggest E-commerce firm in the world has Big Data as the backbone of its system. Flipkart, the biggest E-commerce firm in India, has one of the most vigorous data platforms in the country.
Big Data's recommendation engine is one of the most incredible applications the Big Data world has ever seen. Big Data provides the companies with a 360-degree view of their customers.
Companies then recommend the customers accordingly. Customers now experience more specified services than they have ever had. Big Data has entirely redefined people's online shopping experiences.
Big Data Case Study in E-commerce
You just can't pay for to miss this best-selling pair of jeans from Killer? This notification from my favorite online shopping platform Ajio easily tempted me to at least check those pairs of jeans.
On the other hand wait, how do they know that I need a pair of jeans? Maybe my Dad would have told them. This is where Big Data recommendation engine has brought a reform for the E-commerce platforms.
Among the recommendation engine, they now possibly know my choices better than anyone else and recommend me stuff accordingly. Cool. Isn't it?
5. Big Data in Media and Entertainment
The media and Entertainment industry is all about art and employing Big Data in it is an absolute piece of art. Science and Art are regularly considered to be the two completely different domains but when employed together, they do make a deadly duo and Big Data's attempts in the media industry are a perfect example of it.
Keeping a customer happy is a lifelong journey for the media and entertainment industry. They must offer their customers with a new subject to keep them engaged with their firm. The recommendation engine plays an important role here as well.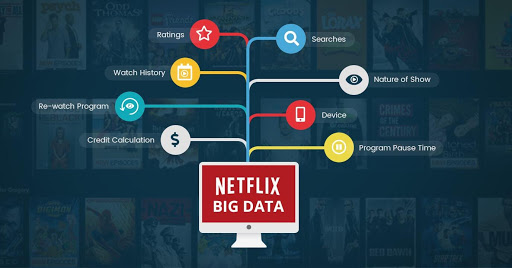 Spectators these days need subjects according to their choices only. The subject that is relatively new to what they saw earlier. Previously the companies broadcasted the advertisements randomly without any kind of evaluation.
But after the introduction of Big Data analytics in the industry, companies now are attentive to the kind of advertisements that attracts a customer and the most correct time to broadcast it for seeking maximum interest.
Viewers are now the real heroes of the Media and entertainment industry -courtesy to Big Data and Analytics.
Big Data Case Study – Netflix
Netflix, the world's prominent internet entertainment service, depends solely on Big Data for its recommendation systems. Once you finished watching a series on Netflix and a minute later you have suggestions about the other series you would like watching of a similar category.
Relevant? Very much, isn't it? But you never spared a thought about it. This is the benefit of Big Data's recommendation engine.
6. Big Data in Finance
The working of any financial organization depends heavily on its data and to protect that data is one of the robust challenges any financial firm faces. Data has been the second most important service for them after money.
Even before Big Data achieved popularity, the finance industry was already dominating the technical field. In addition to it, financial firms were among the primary adopters of Big Data Analytics.
Digital banking and payments are two of the most trending axioms around and Big data has been at the nucleus of it. Big Data is commanding the strategic areas of financial firms such as fraud detection, risk analysis, algorithmic trading, and customer satisfaction.
This has produced much-needed fluency in their systems. They are now enabled to focus more on providing better services to their customers rather than focussing on security issues. It has now boosted the financial system with answers to its hardest of the challenges.
Big Data Case Study – Mastercard
Mastercard's Big Data ventures are no new thing for the world. Being one of the most innovative financial firms in the world, Big Data has been a vital player for Mastercard in recent years.
Big Data scam detection strategy has been saving billions of dollars for them. Their Big Data implementations have brought them closer to their customers.
7. Big Data in Travel Industry
While Big Data is expanding like wildfire and several industries have been cooking its food with it, the travel industry was a bit late to understand its worth. Having a tension-free traveling experience is still like a fantasy for many.
And now Big Data's appearance is like a ray of hope, that will mark the departure of all the obstacles in our smooth traveling experience.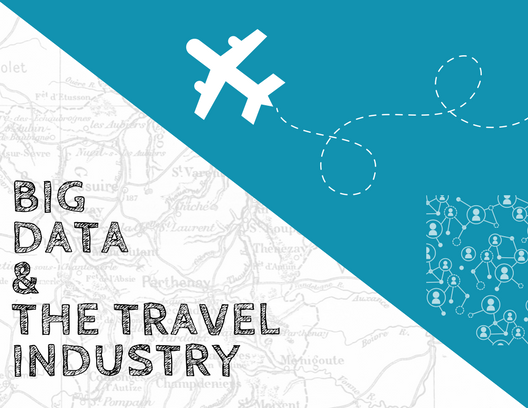 With the help of Big Data and analytics, travel companies are now able to offer more personalized traveling experience. They are now able to understand their customer's requirements in a much better way.
From providing them with the best offers to be able to make offers in real-time, Big Data is a perfect guide for any traveler. Big Data is steadily taking the window seat in the travel industry.
8. Big Data in Telecom
The telecom industry is the passion of every digital revolution that takes place around the globe. With the constant popularity of smartphones, it has engulfed the telecom industry with huge amounts of data.
And this data is like a goldmine, telecom companies just need to know how to mine it properly. Using Big Data and analytics, companies can provide the customers with smooth connectivity, thus removing all the network barriers that the customers have to deal with.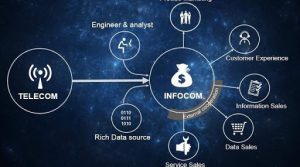 Companies now with the help of Big Data and analytics can trace the areas with the lowest as well as the highest network traffics and thus doing the needful to ensure disturbance-free network connectivity.
Big Data identical to other industries, has helped the telecom industry to understand its customers very well. Telecom industries now provide customers with offers as specified as possible. Big Data has been behind the data reforms we are currently experiencing.
9. Big Data in Automobile
Big Data has now taken complete charge of the automobile industry and is driving it smoothly. Big Data is driving the automobile industry towards some amazing and never before results.
The automobile industry is on a move and Big Data is its wheels or I must say Big Data has given arms to it. Big Data has helped the automobile industry achieve things that were beyond our mind's eye.
From evaluating the tendencies for understanding the supply chain management, from taking care of its customers to turning our craziest dream of connected cars a reality, Big Data is well and really driving the automobile industry crazy.
Summary
The applications of Big Data itself is proof of its control across the world. Big Data has left no domain of the world uncaptured with its massive benefits. Every industry across the world is now tending towards Big Data Analytics and that's what the power of Big Data.
Businesses just cannot allow to ignore it at any cost. In the next few years, Big Data would soon be an obligation for all kinds of businesses globally.