Big Data and Artificial Intelligence: Nirmala Sitharaman's game-changing strategy for Union Budget
There is no doubt in saying that the 'Make in India' is the most successful initiative ever taken by the government. Symbolizing the departure from slavery and starting the speech with Bahi-Khata, Hon. FM Nirmala Sitharaman showed the power of the Modi government 2.0. Ditching the Colonel era briefcase and bringing her own set of the ledger (A/c of revenue and expenditure), made the nation eye on her. And all for good reasons.
#NewVision for a New India
Beginning her budget for new India, for 130 crore Indians she gave wings to every dream. This Union budget lays the foundation of an inclusive and progressive nation. The objective of the government states 'Majboot Desh Ke Liye Majboot Nagrik' and I believe, this is the gist of the budget and that's what we stand for. After all, this is about the hard work and sacrifices that 130 crore Indians have made or faced.
The Union budget serves everyone, starting from India's farmers, youngsters, women, poor, entrepreneurs, and elites(Everyone).
Focus on Artificial intelligence
Artificial intelligence remains at a unique stage in India compared to other developed countries. Therefore, in this Budget focus on AI-based technology and startups is done. This creation of the National Center for Artificial Intelligence and AI hubs will ensure inclusive growth in the IT industry.
The Programmes will be accelerated and red tape will be reduced: Budget 2019. (The Hindu).
This will also help The task of boosting the market demand and keeping the sentiments of investors positive while taking the decision. the MSME sector and startups who are struggling to keep up with legacy players due to increased compliance barriers. These hurdles will no more take a heavy toll on the finances of fresh startups. Rather, this will motivate them to spend more towards innovation.
Budget 2019-20: Government to improve youth skills in AI, robotics (business-standard)
The government aims to enhance skills of youth in newer domains like AI, big data, and robotics which are valued highly within and outside the country, minister of finance Nirmala Sitharaman said on Friday.
This will guarantee they can secure high paying jobs both in India and abroad. Training of the workforce with relevant skills will help address the severe skill shortage technology that IT companies are facing right now.
Virtual technology
Around 10 million youth will receive skills training. This will focus on new-age technologies like AI, IoT, Big Data, 3D printing, robotics, and virtual reality.
The task of boosting the market demand and keeping the sentiments of investors positive while taking the decision was a huge task. This is important so that slump can be avoided in fiscal metrics. All this could end up making any fiscal stimulus counter-productive.
To boost the agriculture sector large scale investments have been made. This will strengthen rural India. To enhance the productivity, investment of Rs. 25 lakh crore is made for the coming five years.
Nirmala Sitharaman launched new policies regarding the usage of big data, Artificial Intelligence, and blockchain technology. This was because the main emphasis was on the agriculture sector. By using these technologies accurate and faster predictions can be made. Also, the information about prices, weather, and other variables can be predicted. Adding to that, there are a lot of deals that are happening globally because the people around the globe have realized the importance of these technologies. In recent times, a Deal Worth $15.3 Billion has taken place for Big Data. It talks about why Salesforce has acquired Tableau and how it will use the technologies to maximize its market share.
Zero Budget farming
With Zero Budget Farming, the costs of raising the main crop are offset by the income that farmers earn from intercrops. This method will remove the usage of chemical fertilizers and pesticides and will make way for locally available cow dung and cow urine, jaggery, and pulse flour. It is currently in Andhra.
Technologies have made construction at a high pace, and 30,000 km of Gram Sadak has already been built using clean technology, which has reduced the carbon footprint. Over 1.25 lakh km of rural roads will be laid and will be upgraded in the next 5 years at a cost of Rs 80,000 to Rs 1,50,000 crore, Sitharaman announced.
The tech initiatives which are kept in mind are
1. Mobile app-based system for direct marketing by farmers

This is very important for the farmers of our country. At least, now they will not have to travel miles to sell their products. Also, in a hope that from the next time such news: Sanjay Sathe sent his earnings of Rs 1,064 from selling 750 kg of onion to the PM as a mark of protest can be converted to something positive. Something like, Indian farmers are flourishing and the excess crops are exported to other countries, thus leading to 2% growth in the GDP.
But, we all know that all this is not a cakewalk, Farmers need to be educated for this. They need to be taught Smart Farming. Smart Farming is a breakthrough application in the field of agriculture. Know how Big Data sets the tone for Agriculture transformation to understand the megatrends implementation the farmers need to know, to match up with the rising population demand.
2. Fund for fish and aquatic farming, a village storage scheme of agri-produce, and a special plan for using uncultivated rural land for solar farming.

You might be aware of all the terms but Solar Farming. Solar farming is an alien term for a lot of people, not only in the rural sector but in the urban sector too. With the penetration of the capital, the land used for constructing solar farms will provide a better habitat for wildlife and plants. These solar farms are the most direct way to reduce carbon emissions that contribute to global warming.
After the recent deadly rainfall in Mumbai, I think its high time we become cautious towards the environment.
Someone rightly said that, Only when the Last Tree Is chopped, the Last Fish is eaten, and the Last river is poisoned, we will realize that we can't eat money. The bittersweet truth here is that Big Data is Helping in Wildlife Conservation but, we humans are not.
3. Last but not least, the space tech sector will also make its way in the budget.

This technology plays a crucial role in improving the lives of common people. There are several facilities such as roads, houses for poor, farming, or equipment for fishermen that have linked with space technology. It provides early warning of impending disasters and identifies the location of natural resources.
Recently we saw that the cyclone 'Fani' that hit the Odisha coast, in India. IMD ( the India Meteorological Department) indicated that there could be a massive storm and they started preparing for the outbreak.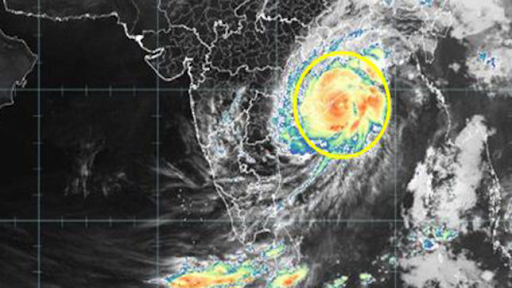 Image Source: Google
This was only possible because of Data Science. Speaking about Science, it is a cross-disciplinary field that uses scientific methods and processes to draw insights from data. So, On April 21, it was these Data Scientist who forecasted about the conditions. They predicted that these conditions were leading to the formation of the low-pressure area. Data on rainfall, temperatures below the sea and above, wind speed, etc were collected, and using scientific methods was analyzed.
A record of 1.2 million people (which is equal to the population of Mauritius) was evacuated in less than 48 hours. It was because of the Data Science that the strongest cyclones to have hit India in the last 20 years saved precious lives. Check out how Data Science is used in Healthcare and how it is improving the lifestyle of patients and predicting diseases at an early stage.
The country's ease of doing business ranking has jumped up from 172 to 121. Moreover, it has become the second-largest startup hub in the world. It has brought a robust hope for the startup and technology industries in India.
The investments in new-age skills like, AI, Virtual Reality and Big Data is the best thing that has happened in the budget. Adding to that, the high tax incentives for promoting research and development has been the key requisite for boosting the sector. All this can take India's IT industry and GDP to the next level.
It is so because now is the time for the Indian IT industry to shift focus from services, people, and process-related approaches to the new innovative technologies like Machine Learning, AI, and Cloud Computing.
According to TOI, increase focus on skill sets required by the youth to apply for job opportunities abroad like language skills and artificial intelligence (AI). We know that in the last 20 years, the Indian IT industry has reached its glory by addressing outsourcing demands for conventional IT roles like Testing, Software Services / Support, and Server monitoring. India was preferred by countries like (U.S, China, Mexico, Ireland, and the Philippines) to name a few :P. This was so because India emerged as a major competitor and managed to outmaneuver all other emerging outsourcing destinations. But, with the advent of AI and automation, this has already started fading. Also, with digitalization and automation, every industry is connected and dependent on these technologies. So, to curb this problem and to diminish brain drain focusing on it is the strategy used by the government.
We Salute to FM Sitharaman's Union Budget Strategy
Thank God for the Upgrade
Says the farmer who Trades
Productivity will increase
And the wastage will cease
Artificial Intelligence and Big Data will forecast the weather
Mammoth changes will be seen in Mobile-app based systems and space tech-sector
The modernization will identify the natural resource locations
It will provide us with signals to various means of communication
and of course in the national security transition
Finance Minister, Nirmala Sithara'MAN'
Will show the nation the power of a true WOman
The Union budget is the topic of center
What else do we need when we have such a good Mentor!
Conclusion
We know that out of all the three sectors, Agriculture is the largest source of livelihoods in India. 70 percent of the rural households still depend primarily on agriculture for their livelihood and the number of farming households is 159.6 million.
But, it is disheartening to know that the share of agriculture in national income of India accounts for just 7.39 percent of its total global agricultural output. The country is far behind China which has $991 bn GDP in the agriculture sector.
So, I hope with the given budget and these revolutionizing technologies India reaches new heights, in terms of productivity, employment, healthcare, infrastructure, and of course in NATIONAL SECURITY.
After reading this budget report, I hope now you understand the importance of the latest technologies like Big Data and AI. I recommend you start learning Big Data now!!